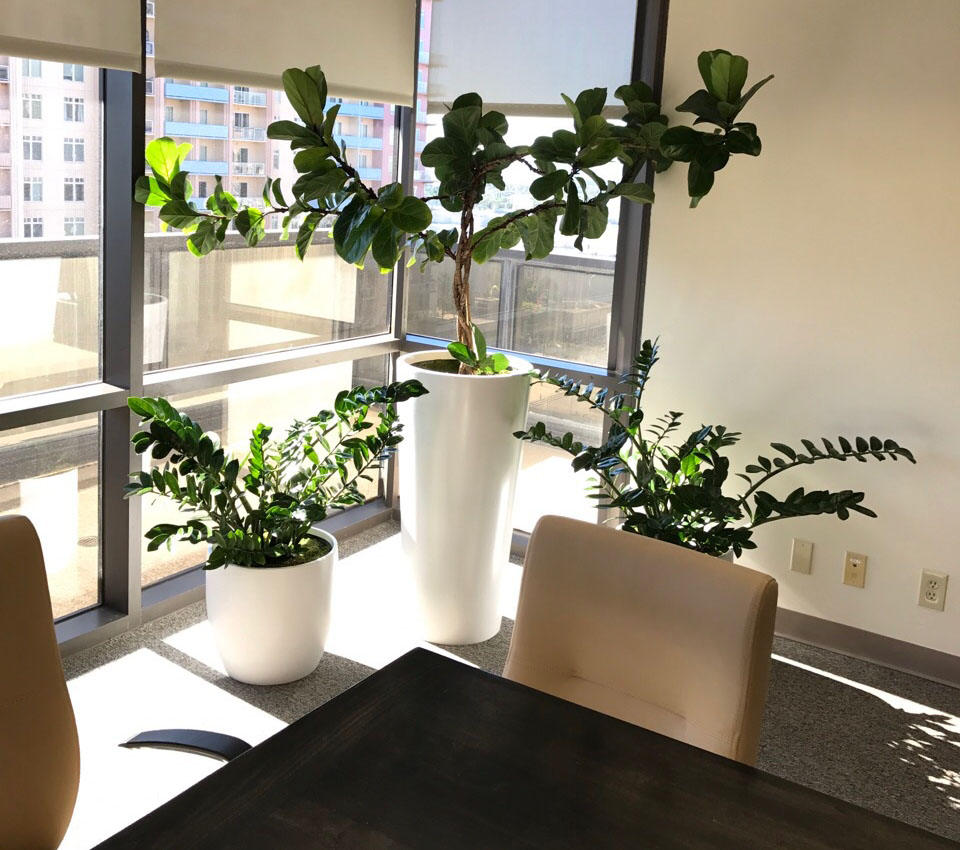 Reduce Stress and Improve Productivity
Based on a study conducted by Dr. Virginia Lohr of Washington State University about the health benefits of plants: A computer program which tests productivity and induces stress presented 100 symbols to participants and took time-measured readings of their reactions. Plants present and not present were the only variables that participants experienced. Subject reaction time in the presence of plants was 12% faster than when plants were not present. In addition, blood pressure readings taken during the study showed that visual exposure to plant settings can produce significant recovery from stress within 5 minutes.
Create Positive Emotions and Improve Focus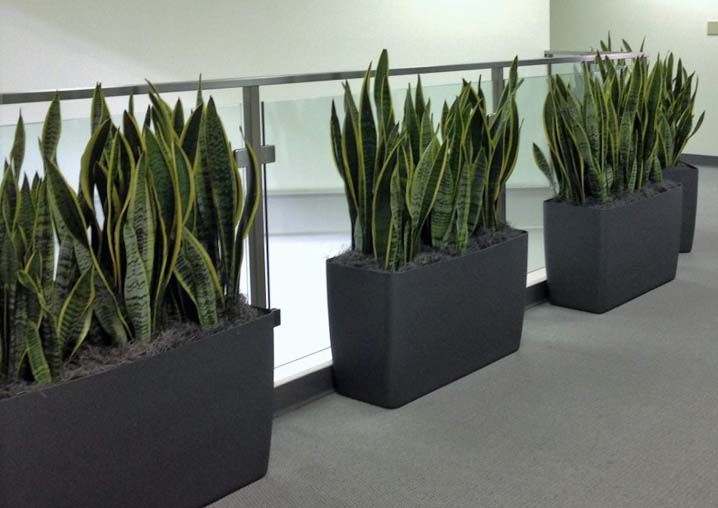 Studies such as those conducted by Dr. Roger Ulrich and Dr. David Uzzell (University of Surrey) verify the positive effect plants have on human perception, disposition and focus. Test subjects had higher alpha brain wave amplitudes when viewing slides with nature scenes than when viewing slides with urban scenes. In general, higher alpha brain wave amplitudes are associated with less physiological arousal and increased attentive relaxation, which indicate a positive state for humans.
The same study found that slides with nature scenes held the attention of test subjects better than slides with urban scenes. Marketing research (Krome Communications, Pittsburgh, Pa. 2000) confirms that improved employee attitude and retention are top incentives for corporations to continue interior landscape contracts.
Improve Humidity Levels
Through a process known as transpiration, plants release moisture in office settings to create more comfortable humidity levels; exactly matching the human comfort range of 30% to 60%. This can lead to a more productive working environment for employees. In addition, when humidity levels in offices are too low, costly materials such as wood can become damaged and cracked. When levels are too high, condensation on windows and exterior walls can result in costly structural damage. By keeping humidity levels stable, interior plants can help to avoid the possibility of costly repair.
Reduce Noise Levels
This fact based on studies done by Dr. Helen Russell & Dr. David Uzzell (University of Surrey), in which a small indoor hedge placed around a workspace reduced noise levels by 5 decibels. Plants can lessen distractions due to office noise for improved focus.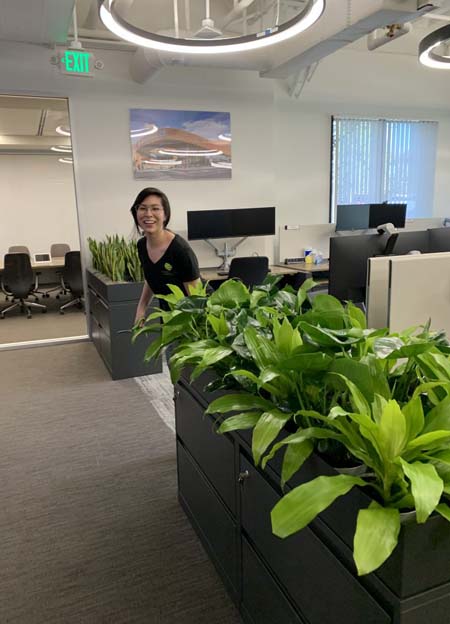 Improve indoor air quality by reducing VOC (volatile organic compound) levels and airborne molds/bacteria. Based on studies by Dr. Bill Wolverton (NASA), plants have been shown to improve indoor air quality in energy-efficient buildings by absorbing office pollutants (i.e. trichloroethylene from adhesives, inks, and paints, lacquers and varnishes used in office buildings) into their leaves and converting them into a source of plant food.
According to Wolverton, indoor plants can also reduce airborne molds and bacteria by up to 60%. Wolverton recommends that everyone have a plant on his or her desk, within what he calls the "personal breathing zone" – an area of 6 to 8 cubic feet where you spend most of your working day.
Reduce Absenteeism at the Office: "Sick Building Syndrome"
"Sick Building Syndrome" is more common in sealed, energy-efficient buildings where there is less exchange of fresh outdoor air for stale indoor air. The air inside these buildings is often 10 times more polluted than the air outside due to toxic emissions from a variety of building constituents.
In a Plants for People (UK) study with plants installed in the radiology department of a Norwegian hospital, Sick Building Syndrome symptoms were reduced by 25%.
By reducing Sick Building Syndrome symptoms, plants can reduce absenteeism. Absenteeism due to IAQ-related illnesses was shown to decrease from 15% to 5% over 6 months. In recent studies by the Joint Commission on Accreditation of Healthcare Organizations, 40% of absenteeism has been attributed to illness related to poor IAQ.
Create a More Aesthetically Pleasing Perception of Your Facility

As reflected in the 2001 BOMA/CEL Tenant Satisfaction "A-List Award" – "appearance and condition of the property" is a top category of evaluation among building tenants. Studies out of England's Oxford Brookes University reinforce that indoor plants offer a guarantee of positively enhancing peoples' perceptions of a building, while those perceptions are less positive in the absence of plants.
Remind Your Workforce of Their Favorite Hobby
In a survey conducted by Opinion Research Corporation of Princeton, New Jersey, in a survey of 1,008 American men and women, 42% choose plants to personalize their workspaces. Data indicates that in order to attract and retain top employees, workplaces must include aspects of what inspires employees during their "off" time. Gallup polls indicate that 2/3 of the American workforce cite gardening as their favorite hobby. It logically follows, then, that plants should be included in the workplace.
Live Plants Cost Less to Maintain than Artificial Plants
Case study – Not only did the MGM Grand Hotel (Las Vegas, Nev.) find that silk plants were more expensive than buying live, they now save on maintenance. Live plants can be tended in place and repair minor damage by growing new leaves. In the right light, live plants flourish while silk plants' color bleaches out. The involved dusting process for silk requires taking them outside, washing them, letting them dry and treating them with fire retardant. By the time they are cleaned twice, they have to be discarded.
Enable Your Key Staff to Focus on Company-Specific Goals
By outsourcing interior landscaping contracts, staff and management can concentrate on company-specific goals, rather than having to worry about plant care (this could lead to lower productivity which could prove more costly over time than outsourcing plant care). According to Buildings magazine, outsourcing was one of four top industry trends.
Hundreds of stories about the health benefits of indoor plants in major publications
From general audience media to facility and building manager publications, stories about the benefits of interior plants are popping up everywhere. As more stories are published, the benefits of interior plants are becoming common knowledge.
Get the Facts
Learn how Green Plants for Green Buildings are essential to creating and maintaining a healthy and profitable environment.
Feel free to contact us if you have any questions.