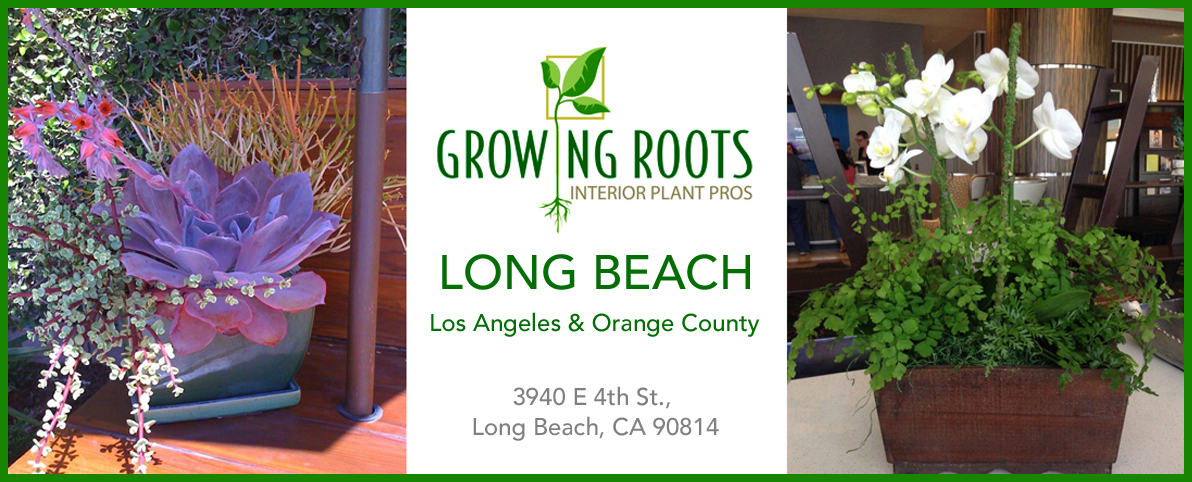 Growing Roots Long Beach Specializes in Acclimated Indoor Tropical Plants

Growing Roots™ is committed to supplying our customers with guaranteed quality products and services. Our goal is to create a beautiful, enjoyable and most importantly, a healthy interior environment for your home or office. Through the careful selection of the best plants, and best plant care services, we can help you find what works best with your lighting, airflow and décor. If we don't have what you are looking for, we can always order it for you.
Botanicals & Patioscapes
Pottery & Containers
Looking for that special decorative container? We can help you with that also. We have a variety of pottery and containers in the shop but we also have catalogs, sample pots and color chips from several distributors to help you find that perfect piece for your home or office.
Patioscapes
We can design and take care of your patio & balcony gardens, too! Maybe you need a focal point at an entryway, hide an unsightly location or to soften or break up a space. Exterior container gardens can be used to bring in some color to a location or create a barrier or border/pathway to a specific location or help direct traffic.
Call 562-773-7027 for a FREE

in-home, or in-office, estimate.
Appointments Available Monday – Friday
Proudly Serving
Long Beach – Los Angeles – South Bay – Orange County
About the Owner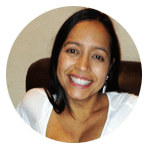 In addition to being the owner of Growing Roots LLC, headquartered in Long Beach, CA, since 2004, Jennifer Perez is also a strong supporter and active participant in industry related organizations. As a supporter of the Green Plants For Green Buildings association, Jennifer offers plant advice for businesses working to meet Leadership in Energy and Environmental Design (LEED) certification. Growing Roots was also the first interior plant care company in California to be "green certified" by Green Earth Green Plants in 2009. The certification conducted by a third party is an assessment of a companies general business practices.
Jennifer loves working with plants but her most important job is being a wife and mother to two beautiful and busy boys! Not to mention a house full of critters.
Email Jennifer:
Proud Member of…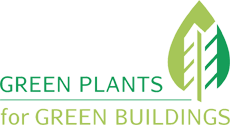 Guaranteed Maintenance
Your plants are maintained by uniformed and highly-trained technicians who tend to every detail of service, including watering, fertilizing, trimming, pruning, cleaning, rotating, and any necessary environmentally-friendly pest control. We provide guaranteed maintenance with all our plants, allowing you to simply enjoy your new, worry-free green environment.
Continuing Education Units
Growing Roots™ offers a one hour course on the benefits of interior plants for Continuing Education Units (CEUs), which are evaluated in accordance with strict US Green Building Council (USGBC),American Institute of Architects (AIA), American Society of Interior Designers (ASID) and Building Owners and Managers Institute (BOMI) guidelines.
My interior plant designs.
(Click on arrow in upper right corner for full screen viewing.)
From My Clients

"Growing Roots service is outstanding! Jennifer and her team make sure to really provide a one-on-one experience to assure that we are happy with what they provide. They are extremely easy to collaborate with and the team always comes in with a wide smile on their face. As a growing business, we are always pivoting and shifting and the Growing Roots team is always more than happy to adapt to our needs. Jennifer is one of the most thoughtful people I know. Her team is nothing short of wonderful too. Her technicians do an amazing job of embodying the mission that Jennifer and Growing Roots have set forward.
The Refinery29 team loves the atmosphere. Adding greenery to our workplace has definitely helped spark some joy and color into our office. The best part is how well-maintained the plants are. It's fun to walk through the hallways and see a Fern start to have cute, curly fronds – it makes us happy to watch them thrive. "
Nora Noone, Refinery 29
Los Angeles, CA
---

"Jennifer and her team have done a fantastic job in enhancing the lobby of the hotel. She is very flexible to the Renaissance brand demands. She has been timely and a solid resource for our botanical needs. I highly recommend her."
Pam Ryan,
General Manager, Renaissance Long Beach, CA
---

"I strongly recommend Jennifer's design and maintenance stategies. I have known and worked with her at the MDR Marriott for the past 3 years and she helped lower our expenses by her unique plantscaping design, and most specifically our famous Zen garden for the lobby. Her team is very knowledgeable, courteous and flexible to accommodate any last minute needs and changes."
Yousouf Jeerooburkhan,
Marriott Hotel, Marina Del Rey, CA
---

"I just wanted to take a moment to express my appreciation for the professional and courteous service we receive from your company! It is so nice to have someone come in and care for our greenery, in such a loving and professional way. Your team has saved us a lot of money in replacement plants by being able to spot the beginning stages of a problem, and with that diagnosis provide a solution so that we can maximize the life of our plants. Our plants are always well watered, cleaned, and healthy. Thank you, thank you, thank you!"
Maureen Erro, Community Director,
UDR, Pacific Shores, Huntington Beach, CA
---

""Thank you so much for all of your hard work yesterday at Virco.The plant installation went so smoothly, and the result looks great — we are all very happy with it! You and your crew did a fantastic job – thanks again for making it such a great experience for us. We look forward to working with you and enjoying a healthy green environment at Virco."
Andrew Virtue
Virco Mfg., Torrance, CA CA
---

"I have had the opportunity to partner with Jennifer on several projects. She has guided us through the designing and placement of our plants. We have a very demanding clientele that expects the finest in décor. Several times we have called on Growing Roots to assist us in maintaining a fresh and professional appearance. The staff representing Growing Roots has always displayed professionalism along with the upmost courtesy when asked questions. I highly recommend Growing Roots for your needs."
Donald Beaudry, Managing Partner
The Clubhouse, Costa Mesa, CA
---

"I've never had a green thumb but always loved plants.  So, when I found Growing Roots and learned they provided affordable residential service, I was thrilled.  I didn't know what plants I wanted and needed someone who would work with me to both choose the right plants and take care of them.  Growing Roots has helped me turn my home into a warm, inviting, healthy environment. I would strongly recommend Growing Roots to anyone who loves to live with beautiful plants."
The Simmons Family
Long Beach, CA
---